Argan Oil for aftershave skincare
Tips and facts about shaving and skincare:
It is vital to shave with hair growth and not in the opposite direction because shaving in the opposite direction, can lead to ingrown hairs, which can be uncomfortable and painful.
Razor is only to be used by one person. Therefore, never share your razor with another individual. This is because sharing razors can cause dangerous cross-contamination, potentially spreading a possible infection inside your body.
It is essential to be careful when shaving errant hairs such as on your neck and cheeks and anywhere else. This is because if you are not extra careful, you may cause ingrowing hair and may end up with a skin burn.
Cold skin creates goosebumps. Therefore, never shave your skin when it is cold because when you do so, you will end up shaving small bumps on your skin, tiny cuts and razor burn, which can be painful. Thus, it is crucial to shave your skin when it is warmer.[/su_list]
Razor blades can spread infections such as:
Staph Bacteria, which mostly causes folliculitis.
Jock Itch, which is referred to as a fungal infection.
Warts, which are caused by a particular type of virus.
Note: Make sure the razor is free from possible fungus, bacteria or rust. This can be serious, especially if you have small cuts after shaving. Therefore, make sure you maintain hygienic status for the razor at all times.
Follow these simple steps to disinfect the razor before shaving:
Soak the razor for ten minutes in isopropyl alcohol. Or, you can soak it in a teaspoon of bleach solution and 4 cups of water for 10 minutes.
Scrub your razor with a toothbrush to remove any leftover debris.
Rinse the razor using hot water and dry it thoroughly with a towel.
Caution: Never, Never mix bleach and vinegar because they can create a chemical reaction that can harm you.
Sidenote: After you have done everything and followed all the safe practices, you may sometimes still get undesired after-shaving side effects no matter what you do.
These side effects may include:
Aggravating red bumps.
Dry, brittle skin and itchiness.
Tenderness and in-grown hairs.
A burning or hot sensation as in a red rash.
Many over-the-counter aftershave lotions contain chemicals that can be harmful and damaging to your smooth skin and even cause severe allergic reactions.
This is where Organic Argan Oil comes in. It is safe to use for your body as head to toe to skincare treatment, including after-shave skincare. This is because it is from a natural source, the Argan tree, and no additives or chemicals are added to it.
Organic Argan oil contains a handful of natural nutrients and properties, including polyphenols, Sterols, Vitamin E and Fatty Acids. These nutrients will provide the best after-shave skincare you are looking for.
Argan Oil is the go-to natural product for your optimal solution because:
It cleans and detoxifies your skin.
It keeps your skin smooth.
It helps grow new hair follicles and has hydrating effects.
It keeps the skin healthy, well-protected, fresh and radiant.
It soothes irritation and burning sensation caused by the razor.
It acts as a potent natural moisturizer and replaces the lost moisture that is resulted from shaving.
It acts as an anti-inflammatory and helps with healing razor burns, bumps and small cuts.
1. Argan Oil For Razor Bumps and Razor Burns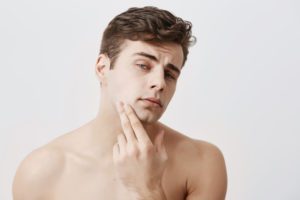 Argan Oil has a relieving, soothing, and healing effect for your razor bumps and razor burns.
Follow these steps to take care of the aftershave razor burns:
Shave your body part as you usually do.
Rinse the area thoroughly with lukewarm water.
Pat dry the area gently and avoid rubbing as this may irritate your skin.
Apply a few drops of the oil to the area and gently massage the oil in circular movements.
Allow five minutes for the Argan Oil to get fully absorbed deep inside your skin.
Clean the body part you shaved using a bar soap from a natural source
#Argan Oil for aftershave skincare #Argan Oil for aftershave skincare # Moroccan Argan Oil for aftershave skincare